This seasonal pumpkin salad with fig & goats' cheese is so full of the joys of autumn I simply love it!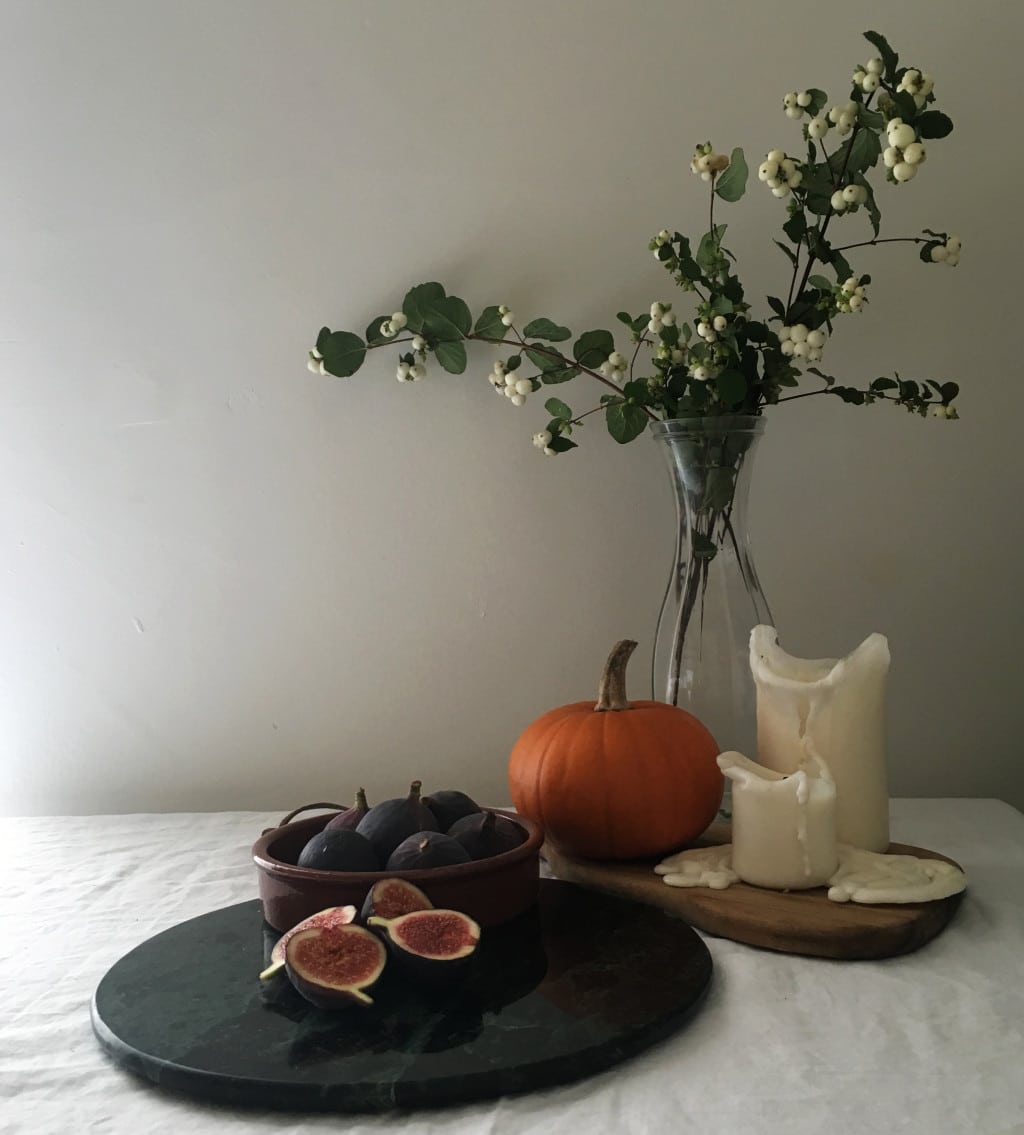 I have this thing with pumpkins, they just bring me so much joy to look at and eat that I can barely walk past them without buying one. Seen as my local greengrocer has a lovely display of brightly coloured seasonal squashes at the front of the shop I'm currently bringing home pumpkins home like little lost kittens! Although I'm perfectly happy to have them brightening up my home, I thought seen as we're still a month away from Haloween I better cook one up before the collection gets out of hand!
I'm a big advocate that salads aren't just for summer, and this pumpkin salad with fig & goats' cheese is just the ticket for the transition into warm salad season. The spices added to the pumpkin for roasting bring depth and a little heat with the cinnamon adding that extra hint of the cosy season upon us. The soft squash contrasts wonderfully with the crispy chicory and the sweet figs and goats' cheese combo is always a winner. This is a lovely simple bright supper to make as the evenings draw in. Oh, and the method I suggest below is my absolute favourite way to cook crispy bacon which is amazing in salads!
Pumpkin Salad with Fig & Goats' Cheese
Salad
1 small pumpkin or seasonal squash – skin on, cut into wedges
Cumin seeds
Chipotle flakes
Cinamon
2 figs – quartered
50g goats' cheese
4 rashers of good quality smoked streaky British bacon
2 heads of chicory – 1 white / 1 purple
A couple handfuls of other salad leaves – rocket, little gem, red oakleaf etc.
2 tbsp pumpkin seeds – toasted
Dressing
balsamic vinegar
small tsp dijon mustard
small tsp honey or date syrup
olive oil
Place the pumpkin wedges into a roasting pan and drizzle with oil; dust each slice with a little cinnamon and sprinkle over cumin seeds and chipotle flakes. Roast at 200c until cooked through and caramelising slightly. Toss the pan once during cooking. Remove the skin before serving if you prefer.
Line a tin with baking paper, lay rashers on the sheet and cover with a second sheet of baking paper. Place another heavier tin on top to keep the bacon flat and bake in the oven for 20mins. Cut into squares once cooked.
To assemble the salad: Separate the chicory leaves – slicing the larger ones in half lengthways and add to salad bowl or platter with the other leaves; top with the warm squash, fig quarters and bacon; top with crumble the goasts' cheese followed by toasted pumpkin seeds; dress and serve.